Port Canaveral Cruise Port
Call To Book A Cruise!
888-969-0069
Things to do in Port Canaveral
Things to do in Cocoa Beach and Space Coast
Port Canaveral Cruise Port has one of the best pre and post vacation lists in the world. Orlando's Disney World, Universal Studios, Kennedy Space Center's Space Shuttle Atlantis and many more. Hotels in this area are some of the most affordable in Florida, so it's easy to come in and enjoy your days before the cruise and rest the day after your cruise.
Take advantage of the waterfront dining restaurants inside the Port, that serves freash, locally caught, seafood. The pre and post cruise experiences available in the new redeveloped Cove, is not available at any other Florida port! Port Canaveral Cruise Port is the only Florida port with waterfront restaurants on our channel that allow our guests to enjoy dinner and drinks with close-up views of majestic cruise ships arriving and departing.
Don't forget the Victory I, Florida's largest casino ship, 855-468-4286, offers 5-hour cruises out of Port Canaveral 13 times weekly.
Kennedy Space Center
The new $100 million 90,000 square foot space shuttle Atlantis exhibit at Kennedy Space Center Visitor Complex opened June 29 to rave reviews. This adds yet another reason why cruise passengers who arrive a day or two before their cruises from Port Canaveral experience more relaxing and fulfilling vacations. 866-737-5235 - SR 405 Kennedy Space Center Titusville, FL 32899
Photo Credit: Photo by InSapphoWeTrust Flickr Creative Commons
Even if there isn't a live launch scheduled during your stay, you can still experience the drama of spaceflight with a visit to Kennedy Space Center, where you can strap in and launch as part of one of the most realistic spaceflight simulators in the world or immerse your imagination inside the immense IMAX Theater experience. And that's just the beginning. Tour launch pads.
Photo Credit: kennedyspacecenter.com Creative Commons
Get up close to Space Shuttle Atlantis in a remarkable display that puts you so near you can actually see the space dust on its nose. Meet astronauts. See Angry Birds Space Encounter. Find out why those birds are so angry. Fun? You bet. And if you learn something along the way, well, that's the price you pay.
Coco Beach & Jetty Park beach
With a day or two before...or after...cruising, you can enjoy loads of fun and educational activities from the many choices the Space Coast, Cocoa Beach and Port Canaveral area have to offer.
We suggest a visit to the Kennedy Space Center, 866-737-5235, Visitors' Complex, or an airboat ride, 407-568-6790, on the St. John's river, how about surfing
lessons, 321-799-9930, at Cocoa Beach or a gentle nature boat
ride, 800 979-3370, on the Banana River Lagoon, just to mention a few.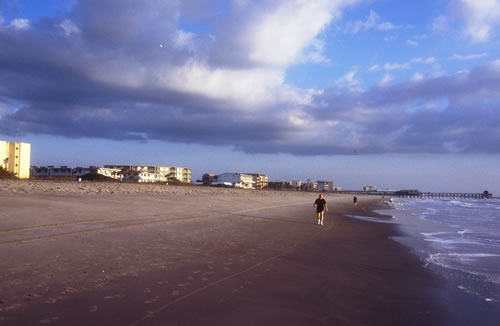 Photo Credit: Dennis Adams, Federal Highways Administration.
Canaveral National Seashore (U-S- National Park Service) contains 25 miles of undeveloped barrier island, which preserves the natural beach, dune, marsh and lagoon habitats for many species of birds on Florida's Space Coast- So its no wonder that this national park is both a local and visitor favorite.
Year-round recreation at Canaveral National Seashore includes fishing, boating, canoeing, surfing, sunbathing, swimming, hiking, camping, nature and historical trails- During the summer months, the park provides guided sea turtle nesting tours.
Canaveral National Seashore (U-S- National Park Service) 212 S- Washington Avenue 32796 Titusville
Airports near Port Canaveral Cruise Port area
Orlando International Airport
Orlando International Airport is the primary hub for air travel to and from Central Florida, having more nonstop scheduled service to more U.S. cities than any other Florida airport. Designated a large hub airport by the FAA, Orlando International Airport has four runways and more than 5 million square feet of terminal space. It averages 875 flight operations per day. In anticipation of increasing demand, a $3.3 billion capital improvement program is scheduled during the next 15 years.
Click for airport Website
Melbourne International Airport
Port Canaveral's closest full-service airport is Melbourne International Airport, located 26 miles to the south. This small-hub airport features state-of-the-art passenger facilities and a 10,200-foot main runway. As a cruise passenger gateway, Melbourne International Airport offers nonstop flights to domestic hubs with connecting flights to almost anywhere in the U.S. and abroad.
Orlando Sanford International Airport
Orlando Sanford International Airport is located in Sanford, Florida, approximately 20 miles north of Orlando. The 2,400 acre airport features four lighted runways, from 3,500 to 9,600 feet in length. It also includes a 395-acre industrial park and 200 acres available for further development. Considerable infrastructure improvements and additions have been completed in the last five years to accommodate fast-growing demand.
Space Coast Regional Airport
FAA Designation: TIX Space Coast Regional Airport is located on the border of Titusville and Cocoa, Florida. The longest of its two runways extends 7,320 feet and accommodates corporate and commercial jets loaded and fueled for cross-country flights. Space Coast Regional Airport has a number of projects under way which will prepare it to accommodate a full schedule of nonstop trans-continental jet charters.
Space Coast Regional Airport and adjacent Spaceport Commerce Park are located within Foreign Trade Zone 136. With road, rail and air transport on site, and only 15 minutes from the Port, this is a convenient hub for distribution of containerized freight.
Daytona Beach International Airport
700 Catalina Drive, Ste 300, Daytona Beach, FL 32114 - 386-248-8030
Daytona Beach International Airport is located approximately 75 miles north of Port Canaveral, and serves as a convenient alternative for visitors to the Port Canaveral area. The Airport is minutes from Daytona Beach and the Daytona International Speedway and one mile from Interstate Highways 4 and 95.
You may also want to know...
This site is used to promote tourism in the Cape Canaveral area, and is owned and operated by Hotel411.com.
Our site is used solely to promote tourism in the city of Cape Canaveral and is owned and operated by Hotel411.com. Many travelers, especially those on business, prefer to stay in close proximity to the port. Cape Canaveral is a great city to visit, however, if you're in town on business, it may not be in your best interest to make a special trip into the city with a gerat deal on a car rental.
If this is the case, there are a number of rental options around each port.